Peter Alfred Letts
M, #6, b. 16 June 1915, d. 7 January 1970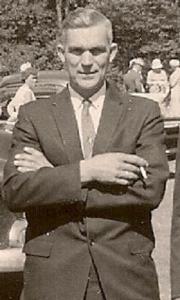 Peter (Hale) Letts 1963
Peter Alfred
Letts
was born on Wednesday, 16 June 1915 at Toronto, York Co., Ontario, Canada, although he always celebrated it on May 19. He started school at Jessie Ketchum Public School, Toronto, Ontario, on September 20, 1921 and went to kindergarten in the mornings. His date of birth was listed as July 16, 1915, address was 126 Davenport Road, father was Frederick Hale, Teamster for Britnel's, Baptist. To see an image of Jessie Ketchum Public School as it looked then, please visit this
page
. He appeared on the census of 1921 in the household of
Frederick
Hale
at 91 Davenport Road, Toronto, York Co., Ontario, Canada. He was enumerated as: Hale, Albert, son, male, single, age 6, born Ontario, both parents born Ontario, Canadian, English, able to speak English, unable to speak French, Church of England, unable able to read and write. He left school on January 30, 1922 and was sent to Joseph Workman. The same year, he was placed in the Protestant Children's Home, Toronto, Ontario. He does not show up in the available orphanage register. Perhaps it was the "Joseph Workman" he was sent to from Jessie Ketchum Public School. I have been unable to find out what Joseph Workman was. There is a school by that name in Scarborough although it was not opened until 1949. The first Protestant Childrens Home in Toronto was located on the west side of Dovercourt Road at St. Anne's Road. In the 1920's (no exact date) the home was taken over by the Orange Order, which opened a large facility on Yonge Street, north of the city, the Royal True Blue and Orange Home, Richmond Hill. Images of the orphanages can be found
here
. He attended Givens Public School in Toronto in 1924. He was in grade 2 and under parent's signature J. M. Carr signed. His teacher was A. Shannon and he finished the year with a 61% and had missed 12 days. In June of 1925, he was made a permanent ward of Children's Aid. On November 2, 1925, he was indentured to and placed with the Letts family, in Cedar Brae, Ontario. Lewis and Maud were paid to keep him in exchange for sending him to school and church. He was adopted on Wednesday, 20 February 1935, by
Maude Victoria
Letts
and
Robert Lewis
Letts
.
     Peter Alfred Letts and
Lila Muriel
Shaw
, daughter of
William John Jefferson
Shaw
and
Florence
Milsted
, were married by
Reverend
J. Henry
Good
on Saturday, 20 June 1942 at Rev. Good's residence, Scott Township, Ontario Co., Ontario, Canada.
Elva
Cleland
and
Wilfred
Rae
witnessed the marriage.

     Peter died on Wednesday, 7 January 1970 at home, 224 Church Street North, Lefroy, Simcoe Co., Ontario, Canada, at age 54 years, 6 months and 22 days of a Heart Attack. He was buried on Saturday, 10 January 1970 in the 6'th Line Cemetery, Innisfil Twp., Simcoe Co., Ontario, Canada.