David James Gordon Brydson
M, #3168, b. 3 January 1907, d. 4 February 2001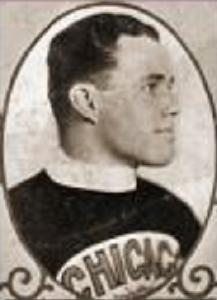 Gord Brydson
David James Gordon
Brydson
was also known as Gordon. He was born on Thursday, 3 January 1907 at Toronto, York Co., Ontario, Canada.
Dr.
A. J.
MacNamara
attended at the birth.
David
Brydson
was listed as the informant.

He and
Vera Dorothy
Beamish
, daughter of
Thomas William
Beamish
and
Flora Jane
Watson
, were married by
Presbyterian Minister
J. Ewing
Reid
on Tuesday, 9 August 1932 at Alhambra Avenue United Church, 1573 Bloor Street West, Toronto, York Co., Ontario, Canada.
Deretta Jessie
Beamish
and
Glen
Brydson
witnessed the marriage.

He was considered an all-round athlete. He played for the Toronto Argonauts in the 1926 season, as a flying wing and place kicker. His hockey career started in 1926-1927 as he played for the Chicago Cardinals/Americans in the AHL. 1927-1928 found him on the roster of the Hamilton Tigers of the CPHL, and in 1928-1929 with the Buffalo Bison of the same league. He played first for the Toronto Maple Leafs in the 1929-1930 NHL season and second with the London Tecumsehs of the IHL. 1930-1932 found him with the Chicago Shamrocks of the AHA, and with the Detroit Olympics for 1932-1933. He then decided to make golf his profession, winning the CPGA twice, two Ontario opens, and a Québec open. He also captured the CPGA senior crown in 1961.
     Gordon died on Sunday, 4 February 2001 at home, Mississauga, Peel Co., Ontario, Canada, at age 94 years, 1 month and 1 day.

He was buried on Wednesday, 7 February 2001 in Park Lawn Cemetery, Toronto, York Co., Ontario, Canada.