Edward Hiram Hale
M, #304, b. 8 November 1897, d. 14 January 1917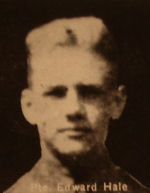 Edward Hiram Hale
Edward Hiram
Hale
was born on Monday, 8 November 1897 at Streetsville, Peel Co., Ontario, Canada, the registration was not signed, reported by Alexander Hale.
Dr.
J.
Glendenning
attended at the birth. He appeared on the census of Thursday, 4 April 1901 in the household of
Alexander
Hale
at Preston, Waterloo Co., Ontario, Canada. He is listed as: Hale, H. Edward, male, white, son, single, born Nov 7 1897 in Ontario, age 3, of English origin, Canadian, Methodist. He began military service on Friday, 14 May 1915 at Guelph, Wellington Co., Ontario, Canada, when he signed his Attestation Paper, becoming regimental # 602487 with the Cdn. Infantry, (Central Ontario Division), "F" Unit, formerly the 34'th Bn. He was born in Preston, Ontario, Nov. 8, 1895, listed his mother, Mrs. Jennie Hale, as next of kin, was unmarried, shoemaker. He had previously served 4 wks with the 29'th Regt. He was considered fit for service and was described as: 5' 7½" tall, fair complextion, hazel eyes, light hair, Methodist, scar on right shin, scar above left eye, several white scars back of left hand.


     Edward died on Sunday, 14 January 1917 at the Victoria Hospital, Preston, Waterloo Co., Ontario, Canada, at age 19 years, 2 months and 6 days due to acute tuberculosis involving both lungs, larynx, and intestines, duration of at least 8 months.
Dr.
N. B.
Alexander
was the attending physician. He was buried in Preston, Waterloo Co., Ontario, Canada.