John Roy Hale
M, #230, b. 7 January 1893, d. 28 September 1918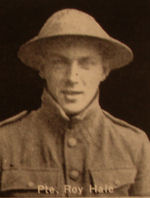 John Roy Hale
John Roy
Hale
was born on Saturday, 7 January 1893 at Streetsville, Peel Co., Ontario, Canada, and the registration was signed by Alexander Hale.
Dr.
J.
Glendenning
attended at the birth.

He appeared on the census of Thursday, 4 April 1901 in the household of
Alexander
Hale
at Preston, Waterloo Co., Ontario, Canada. He is listed as: Hale, J. Elroy, male, white, son, single, born Jan 8 1893 in Ontario, age 8, of English origin, Canadian, Methodist, attended school for 10 months, able to read, write and speak English. He began military service on Wednesday, 1 March 1916 at Preston, Waterloo Co., Ontario, Canada, He became regimental #730567, Private, Cdn. Infantry, (Central Ontario Division), 4'th Bn, when he signed his Attestation Paper, which included the following information: born Jan 9, 1893 in Streetsville, next of kin was mother, Jennie Hale, Preston, Ontario. He was single, working as a Lineman. He was declared fit to serve and was described as being 23 years old, 5' 8" tall dark complexion, blue eyes, dark hair, scar from burn on inside ankle, right leg.


     John died on Saturday, 28 September 1918 at France at age 25 years, 8 months and 21 days a casualty of WW1. The burial register states:
"Died of Wounds." At about 5.35 o'clock on the morning of September 27th, 1918, during operations in the vicinity of Inchy-en-Artois, and after crossing the Canal du Nord, he was hit in the back by a piece of shrapnel . His wound was dressed and he was evacuated to No.30 Casualty Clearing Station where he succumed the following day.
He was awarded the Military Medal. He was buried at Bucquoy Road Cemetery, Picheux, 4 1/2 miles south of Arras, France, Grave Ref: 11.F.21.

He was commemorated in the
Books of Remembrance
and an image of the page can be found
here
.